Business Continuity Plan Tool
This is the tool to create a business disaster action plan to begin documenting strategies that will help minimize the impact and/or duration of the disruption on your business's cashflow.  Assessing your business risks isn't always easy, but Our free business continuity plan tool will guide you every step of the way.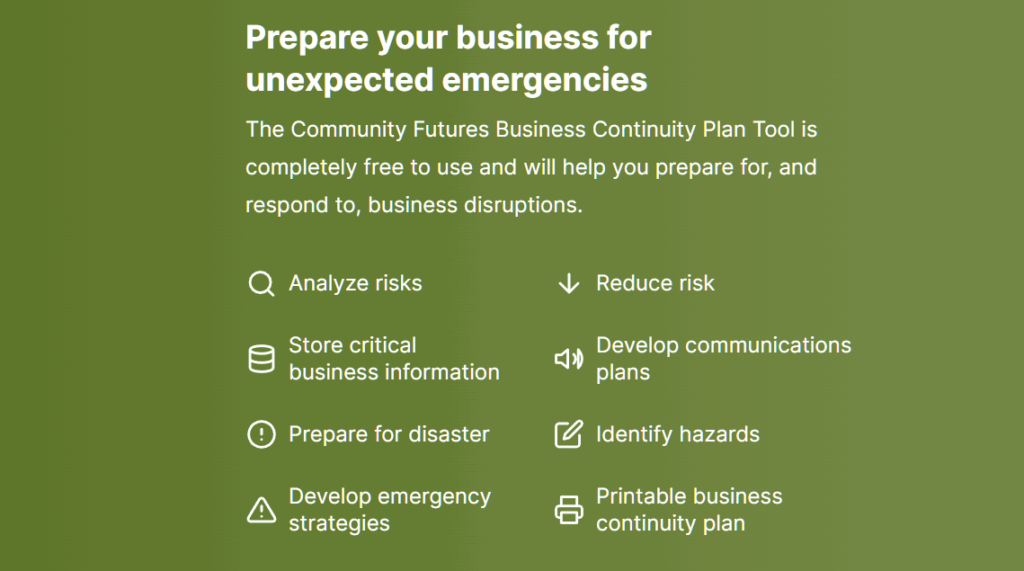 Business Continuity Plan Tool
Use Community Futures' free tool to help you identify risks and create strategies to deal with disruptive events. You will be guided each step of the way as you create your personalized action plan. You will learn to analyze and reduce risk, develop communications plans complete with boilerplate messages, develop emergencies strategies, and more.
When you plan is complete you can print if off, share it with your team, update it when things change, and always have access to your continuity plan online. Think of this as your business survival tool.
Meet business continuity planning expert Colin O'Leary. Colin has over a decade of experience working with business to overcome challenges, and is a frequent keynote and subject matter expert at Provincial and national conferences. 
Colin has been flown all over BC to help businesses create a business continuity plan and has put all he has learned in the past decade into creating the Community Futures Business Continuity Plan Tool. 
As you work your way through creating your personal business continuity plan Colin will guide you every step of the way.